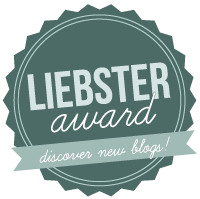 The lovely Erica from Coffee & Quinoa nominated me for a Liebster Blogger Award. I took a peek at her site and I LOVE it. She has fun recipes that are easy, she takes beautiful photos and she's living the good life in Salt Lake City! If you get some time, stop over to her site and show her some love.
So back to this award. She's nominated me and I will participate and pass the love to others! Here are the guidelines:
List 11 facts about yourself.
Answer the 11 questions given to you.
Create 11 new questions for the bloggers you nominate for the award.
Choose 11 bloggers with 200 or less followers to nominate.
Go to each blogger's page and let them know about the award.
Thank the person who nominated you and link back to their blog
So here we go! Here are 11 random facts about me:
I love pickles. I think they should be in their food group.
I have been a vegetarian for almost 7 years and will never look back.
I married a boy from my high school who I wasn't friends with in high school.
I have a beauty mark on the bottom of my left eyelid.
I have one tattoo not visible to the naked eye. (and no, it's nothing dirty or in a controversial spot)
I have visited every state in the US except for Utah and Hawaii. I have more of a desire to visit Utah than visit Hawaii – hey Erica, I should come visit you!!
My major in college was Journalism but now I work for a not-for-profit in IT as a QA Testing Engineer and absolutely love it.
I don't know how to change a tire.
My maiden name is now my middle name because I never had a middle name.
I am still afraid of the dark. As a result, ghost stories/horror movies scare the living crap out of me, but I love reading/watching them and being scared.
I have very deep conversations with my corgi and I swear he understands me.
And now to answer Erica's questions!
1. What was your first job out of college/school?
I freelanced for a paper in town, then worked as an editor for a trade publication in Metro Detroit. Journalism died right about then so I moved into technology.
2. Who would play you in a movie on your life?
Hmm, this one is tough. Only because she's also Indian, Parminder Nagra. I dig her style and it'd be a dream to look like her ;)
3. What is your biggest pet peeve?
I have many but the ones in particular are a). people who never use their signal while driving, b). people who interrupt me while talking and c). people who straight up lie to my face. I don't have tolerance or patience for that.
4. If you could live in another country for a year, where would it be?
This is a hard one because I love to travel and have been lucky to see some amazing places! But honestly? I'd live on the Rue Cler in the 7th Arr. in Paris.
5. What is your first childhood memory?
Landing in the airport in Columbus, OH when I moved to the US at age 3. My dad was already working in the States at Ohio State and he picked my mom, sister and I from the airport. I didn't recognize him.
6. What is one possession you couldn't live without?
Three things: My wedding rings, Mr. Bear and my phone (sad, but true)
7. Beer, wine or neither?
Wine. Always wine. Or a dirty vodka martini, extra dirty ;)
8. Do you consider yourself an introvert or extrovert?
Definitely an extrovert.
9. What is the most spontaneous thing you've ever done?
Every now and again, I randomly book trips to places without really thinking about it. I just want to go, so I do!
10. What is your favorite post from your own blog?
Another great question! I love the wedding and honeymoon recap posts and the one I wrote regarding the women in my family :)
11. Which was the first blog you started following?
The Pioneer Woman – not a big follower of it anymore.
Here are the questions I ask to the new nominees:
What is one thing you are most looking forward to in 2013?
If you could switch lives with one celebrity, which celebrity would you choose?
What birthday is most memorable to you?
What recipe from your childhood do you remember and love the most?
What is your preferred mode of transportation?
Best concert you ever went to?
Have you ever met a celebrity? If so, who, when and where?
Best vacation you remember when you were a kid? (under 18 years old)
Favorite new hobby, activity or possession?
Is there something you want to learn, but haven't yet?
When you were a kid, what did you want to be when you grew up?
And finally, time to share the love. I don't know 11 bloggers unfortunately  but here are some of my faves!
Take a look at their blogs and leave them some love! :)
Have fun!